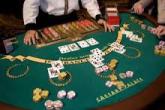 Recent volatility in the stock market has questions pouring into my office. Many people are unnerved by lower balances and discouraging monthly statements. News coverage has raised anxiety levels even further, providing endless commentary on what actions folks should take. Too much advice, much of it contradictory, leaves investors scratching their heads and wondering what to do next.  Should they stay in the stock market or cut their losses and get out right now?  Or perhaps they should  jump in while the markets are lower than they had been previously.
To answer these questions, let's begin by differentiating between two different "games" going on in the stock market.  The first one, I call the "Long Term Game." It involves investing in a highly diversified portfolio of stocks and then just holding them for a very long time (probably several decades).  The "Long Term Game" is a winner's game – participants are extremely likely to do well. Its primary driver is growth in corporate earnings.  Over the long term, corporate earnings do grow and stock values rise with them (usually proportionately).
The second game I call "The Short Term Game" and it is, for the most part, a pastime for "suckers."  Actually, there are many different short-term games all going on at the same time. What all these short-term games have in common, though, is that they are contests between Highly Resourced Insiders and amateurs. There is almost no doubt about who is going to win… and it isn't the amateurs!
Thus, the single most important thing to know about the "Short Term Game" is that you should not be playing it.  It is a loser's bet. Warren Buffet is fond of saying, "If you've been playing poker for half an hour and you still don't know who the patsy is, you're the patsy…"  The "Short Term Game" is played by Wall Street sharpies, big institutions, professional gamblers, and suckers.  Almost everyone who is not a professional investor would fall into the latter category. Of course, Wall Street and its media friends very much want people to play the short term game – regular folks are one of its main sources of funds.
The best thing is to totally ignore the "Short Term Game." It has nothing to do with you. Try not to pay the slightest bit of attention to it.  It is, literally, none of your business. Think of it as so many blackjack tables lined up to tempt you and haul away a chunk of your money.
A big problem, of course, is that the "Short Term Game" is almost impossible to ignore. The news media shoves it in our faces constantly.  (Even the most intelligent broadcast stations find it necessary to tell us how the Dow is fairing every hour.)  Marketing campaigns, paid shills and clever emotional manipulators all urge the critical importance of having everyone in the game. Even friends and neighbors, confused in part by their inability to distinguish the "Short Term Game" from the "Long Term Game," consider it a vital subject for both serious discussion and cocktail party banter.
Contributing to the confusion is the fact that both games are going on simultaneously on the very same playing field.  They can be quite difficult to tell apart and there is some overlap between them.  With a little bit of concentration and a sharpening of definitions, though, you can easily figure out which is which.  The "Long Term Game" is about investment in a diversified group of real companies that create products and services and make real profits. The many versions of the "Short Term Game" are about gambling, speculating, and cleverly taking advantage of "greater fools."  Among the differences between them is that everybody who plays the "Long Term Game" can win – those gains are based on a rising tide of profits that can lift all boats.  The various "Short Term Games," on the other hand, tend to be zero sum games in which one guy's gain is paid for by another's loss.
Once this distinction between the "Long Term Game" and the "Short Term Game" is understood, and renunciation of the latter is firm, things get easier. Now it is easier to avoid the emotional trap set by the gut wrenching volatility of the stock market. Investors are liberated when they understand that what the market does next week, or next year, is essentially irrelevant. The "Long Term Game" will make you rich (slowly) while the "Short Term Game will tend to make you sick at the same time it is making you poorer.
To sum up: long term money is invested for significant periods of time. It should not be watched too closely, fretted over, or moved about. It is playing the "Long Term Game" and you can have every expectation that it will do well for you.  Short term money is best shepherded by avoiding stock markets entirely. By declining to play the "Short Term Game," you are free to simply ignore public discussion of it. Play the winner's game to the fullest extent possible, avoid the loser's game in its entirety, and use your energy to worry about those things you can do something about. Or, even better, direct that liberated energy toward something that makes you happy, fulfills your life, and makes the world a better place.